Celebrities
Olivia Wilde Makes First Appearance After Split And Looks Happy And Content
Olivia Wilde was all smiles and back on a red carpet soon after it was reported she and Harry Styles had called it quits.
On Nov. 19, the Don't Worry Darling director joined fellow celebs at the 2022 Governors Awards in Los Angeles. Olivia wore a sleeveless, A-line Erdem Spring 2023 dress with a mesh overlay and matching long gloves.
On Nov. 18, E! News confirmed the actress and Harry, who starred in Don't Worry Darling, are taking a break after about two years of dating. A day earlier, Olivia attended another celebrity event—the Los Angeles premiere of Women Talking.
She and Harry never made an official red carpet debut as a couple, although they were photographed together in public many times. In addition, they did walk a red carpet at the same time with the rest of the Don't Worry Darling cast at the Venice Film Festival in September.
Among the group: Florence Pugh, who was rumored to have had a falling out with Olivia—a claim the director dubbed "endless tabloid gossip" at a press event.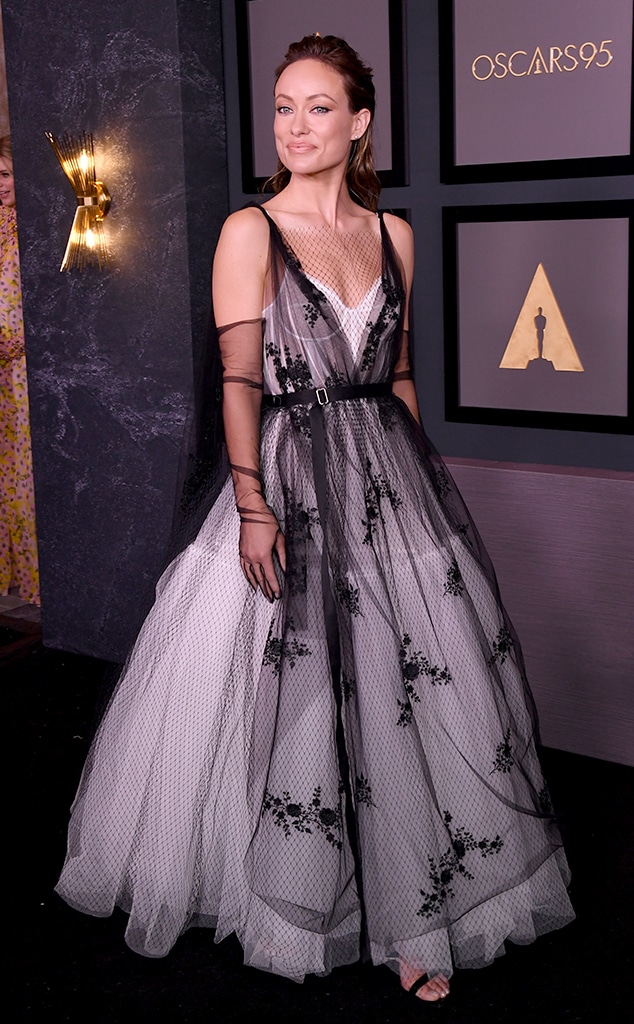 Florence also attended the Governors Awards, although she was not photographed with Olivia.
Other celebrity attendees included Jennifer Lawrence, Tom Hanks and wife Rita Wilson, Gabrielle Union, Margot Robbie, Viola Davis, Janelle Monáe and Ana de Armas.
Honorary Oscars were handed out to a few stars, including Michael J. Fox. The actor, who has Parkinson's disease is known for his advocacy work to advance research for the ailment, received the Jean Hersholt Humanitarian Award.
"It's not about me, it's about the [Michael J. Fox] Foundation, the attention that they're getting, the fact that our work will continue on," the actor told E! News. "I love the glare of the attention because it forces us to really be serious about it, get the work done."